Q AMR:
Remote meter reading by QUNDIS:
The automatic system for recording heating and water consumption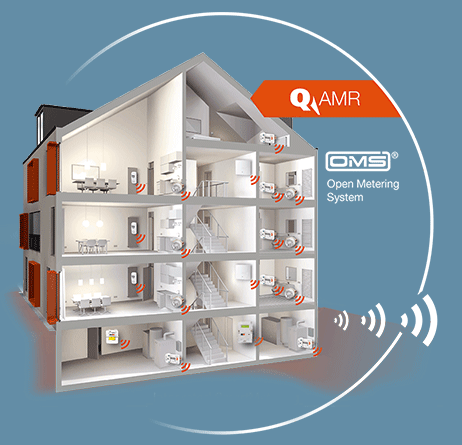 BENEFITS
Low personnel costs
No access to apartments is necessary. Loss of time due to problems with making appointments etc. is a thing of the past.
Lower follow-up costs
Metering service providers do not need their own IT infrastructure for recording consumption data. An Internet-capable computer is all it takes, because the data is transmitted by email.
No mobile phone management necessary
QUNDIS implements the SIM card and mobile phone management under the monthly service charge for the gateway.
Simpler, faster, more precise
The readout process is simplified and fast for everyone. At the same time, data metering is more precise because the readout date is always met.
Different building sizes
The Q AMR automatic remote meter reading system can be expanded as required.
Independent of device & manufacturer
Thanks to OMS support, devices from different manufacturers (including electricity & gas) can be integrated into the QUNDIS remote meter reading system.
Transparency for tenants
Tenants can immediately see when and how much they have consumed. This motivates them to save energy.