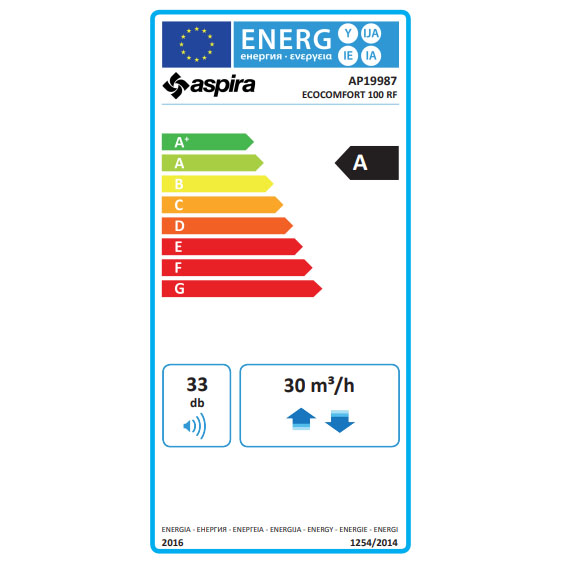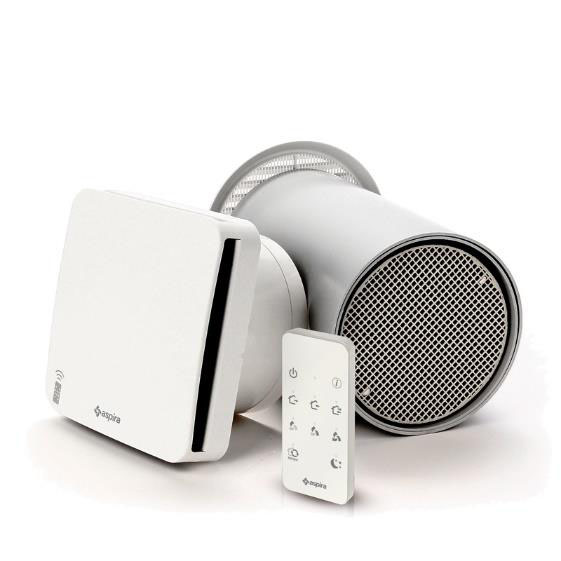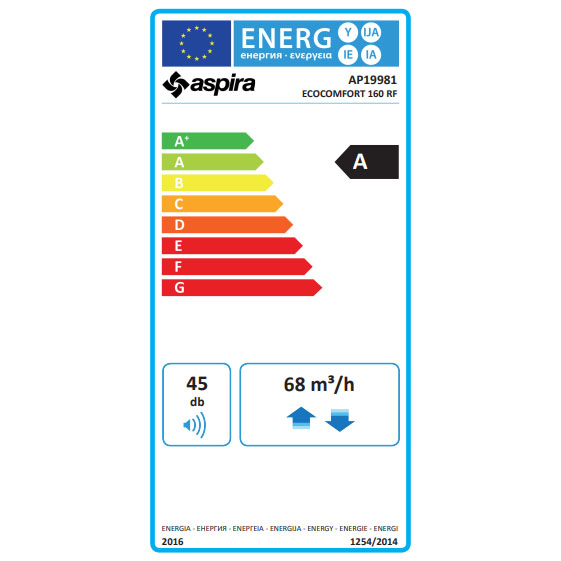 ASPIRVELO AIR ECOCOMFORT High efficiency decentralized heat recovery unit:
The ECOCOMFORT-RF system is composed by one or more single-room high efficiency heat recovery units suitable for exterior walls installation. Thanks to the ceramic heat exchanger inside the unit, the heat of the extracted air is accumulated in the heat exchanger and released to the air flow in the intake cycle. The unit is equipped with a G3 filter.
Each ventilating unit is equipped with a DC brushless motor with low power consumption controlled by a microprocessor which automatically sets the speed according to the temperature, humidity and light brightness readings of the sensors on board to ensure the best comfort.
Installation options: 1 "Master" unit with its remote control and up to 64 slave / additional units.
The remote control, thanks to its intuitive graphics, allows the user to set and modify the desired operating mode and to verify the setting status.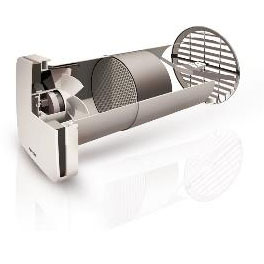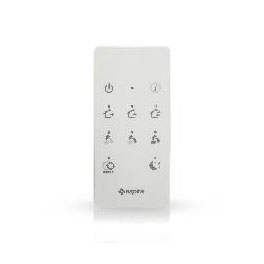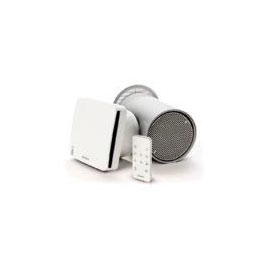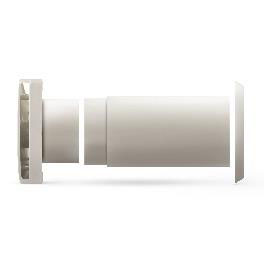 General features
160mm and 100mm Diameters
Wireless RF Control between units
Suitable for 50m2 and 22m2 room areas.
> 90% Heat Recovery
Wall Mounted
Telescopic Adapter to suit different wall thickness
G3 Filter
Low Noise Level
Up to 65 units per system: 1 Master and 64 Slaves
Temperature, Humidity and Brightness Sensors built in.
A2 Energy rating
Technical Specification
| CODE | MODEL | | Ø | MAX AMBIENT DIMENSION* | SPEED | m3/h | W | dB(A) 1.5 mt |
| --- | --- | --- | --- | --- | --- | --- | --- | --- |
| AP19981 | ECOCOMFROT 160 RF | MASTER | 160 mm | 50 m2* | low | 28 | 2.0 | 27 |
| | | | | | medium | 48 | 3.8 W | 32 |
| | | | | | high | 68 | 6.6 W | 38 |
| | | | | | sleep | 15 | – | – |
| AP19982 | ECOCOMFROT SAT 160 RF | SECONDARY HEAT RECOVERY UNIT | 160 mm | 50 m2* | low | 28 | 2.0 W | 27 |
| | | | | | medium | 48 | 3.8 W | 32 |
| | | | | | high | 68 | 6.6 W | 38 |
| | | | | | sleep | 15 | – | – |
| | | | | | | | | |
| --- | --- | --- | --- | --- | --- | --- | --- | --- |
| CODE | MODEL | | Ø | MAX AMBIENT DIMENSION* | SPEED | m3/h | MAX ABSORBED POWER | dB(A) 1.5 mt |
| AP19987 | ECOCOMFROT 160 RF | MASTER | 100 mm | 22 m2* | low | 8 | 2.0 W | 18 |
| | | | | | medium | 18 | 2.0 W | 23 |
| | | | | | high | 30 | 6.6 W | 28 |
| | | | | | sleep | 4 | – | – |
| AP19988 | ECOCOMFROT SAT 100 RF | SECONDARY HEAT RECOVERY UNIT | 100 mm | 22 m2* | low | 8 | 2.0 W | 18 |
| | | | | | medium | 18 | 3.8 W | 23 |
| | | | | | high | 30 | 6.6 W | 28 |

Our Location
Floor One Block B, Monksland Business Park, Athlone, Roscommon, Republic of Ireland

Email Address
info@ermensystems.ie

Phone Number
+353 90 649 0050